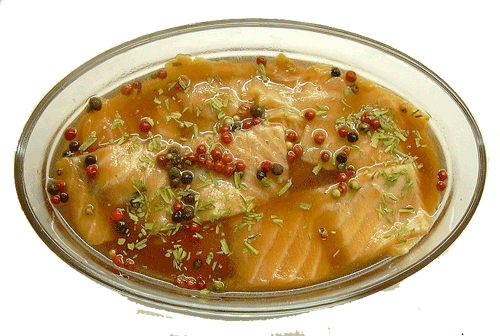 When a dish is an escabeche it means that it is pickled. It is one of the oldest of Spanish recipes and is also very common in all of Latin America. A historical description of a banquet in the earliest days of the Spanish Conquest includes in the menu many versions of escabeches since it is used to prepare chicken, game and vegetables. Probably its principal purpose was to preserve the food before the existence of refrigeration.
Fish prepared in this fashion can be served as a main course or an appetizer. It can be kept in the refrigerator to serve to unexpected guests. It would be a useful and original addition to your repertoire. The recipe given is (or a large amount of fish. because since it keeps in the refrigerator for at least 2 weeks, it is worth making in large batches. The amounts can be halved or even quartered without prejudice to the results.
Ingredients:
Directions
Peel the green peppers. To peel peppers: slice in halves and remove the seeds and membranes.
Place under the oven broiler at high temperature until the skins of the peppers are charred. Put the charred peppers in a paper bag and close the bag securely, leave for about 15 minutes to steam.
Peel the peppers and cut in strips.
Rinse the fish and pat dry. Sprinkle with salt.
Heat the oil to a medium temperature and sauté the fish until golden.
Remove to a plate, allow the oil to cool and pour through a sieve to remove any leftover bits.
In the same oil used for frying the fish, sauté the onion rings and the green pepper at low heat until limp and transparent.
Remove to a separate plate.
Keeping the heat still low, add the paprika, the bay leaf and the vinegar.
Bring to a simmer and heat all together for 5 minutes.
Allow to cool completely and add the onion rings, pepper strips and the olives.
Use one or more large jars with large mouths to conserve the escabeche.
Wash well and rinse with boiling water.
Place the fish and the onions, peppers, olives, oil and vinegar sauce in alternating layers in the jars.
Cover tightly and leave outside of the refrigerator for a few days.
Place in the refrigerator. It will keep in the refrigerator 2 weeks.

Top


juan@juanperez.com
Last time this page was edited August 25, 2015
@copyright 2015 Perez Professional Services all rights reserved
This page was created by Perez Professional Services (561) 313-6041