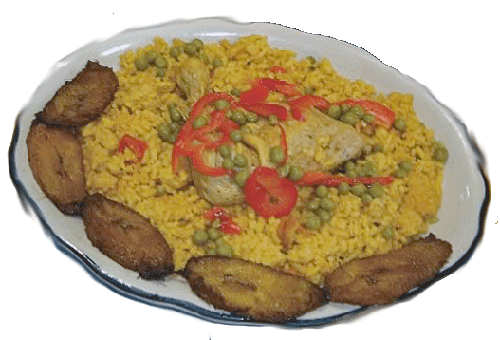 Servings: 12
Ingredients:
Sazón Goya with saffron is a seasoning mix found in Latin American markets or in the ethnic section of many supermarkets.
Broth
Toast the saffron in a small dry skillet for a few minutes over medium heat. Pulverize the saffron in a mortar or between 2 sheets of wax paper with the back of a wooden spoon.
Directions
Marinate the chicken pieces in the sour orange juice or lemon and orange mixture at least for 2 hours, but preferably overnight.
Place all the ingredients for the broth in a large pot, bring to a boil, reduce the heat and simmer for 1 hour. Strain and set aside.
Cook the arroz con polio in an extra large Dutch oven or in a cazuela, which is a style of Dutch oven that is sold in Latin American markets and in some supermarkets. The sides of the cazuela are not as high as the regular Dutch oven.
Dry the chicken pieces with paper towels. Heat the oil in the pan over medium heat and in it sauté the chicken pieces. Add the ham and sauté also. Remove the chicken and ham from the pan and set aside. The chicken skin can be removed if you are concerned with fat.
In the remaining oil in the pan, sauté the onion, sweet peppers and garlic for 4 or 5 minutes. Add the garlic last to prevent it from burning which will give the dish a bitter taste. Add the tomato and cook for 5 minutes longer over low heat.
Add 2 tablespoons of Goya seasoning, the saffron, salt, cilantro and the bay leaves. Add the chicken and the ham and 8 cups of broth.
Bring all to a boil, add the rice, and bring to a boil again. Stir, reduce the heat, cover, and simmer for 25 minutes.
Remove the bay leaves, pour the wine over all and gently fold in the peas. Spread the grated cheese over the surface of the rice and garnish with the following:
Garnish
All the garnishing ingredients are traditional and are placed in spokes radiating from the center which is decorated with a small bunch of parsley.
Cover and let stand for about 5 minutes before serving.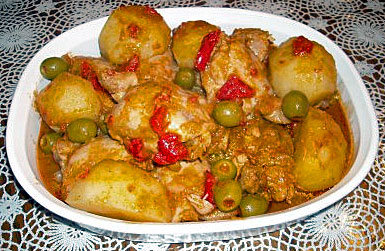 Chicken Fricassee
Fricasé de Pollo

Top


juan@juanperez.com
Last time this page was edited August 24, 2015
@copyright 2015 Perez Professional Services all rights reserved
This page was created by Perez Professional Services (561) 313-6041