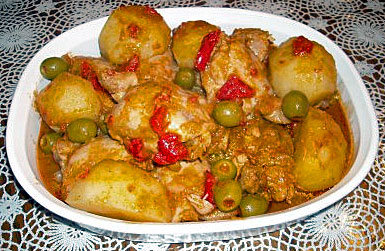 Servings: 6
Ingredients:
½ cup oil

1 onion, chopped

1 green or red pepper

3 cloves garlic

1 8 ounce can tomato sauce

1 tablespoon paprika

1 tablespoon chopped parsley

2 pounds chicken quarters

1 small can pimentos

1 small can tiny green peas

1 teaspoon salt

1 cup sherry

½ cup raisins

½ cup pimento stuffed olives

1 pound potatoes, peeled and diced
Directions
Prepare a sofrito with the first 7 ingredients (oil to parsley). Cook at medium to low heat for about 10 minutes.
Add the chicken and cook in the sofrito for 10 minutes. Add the sherry, the can of tiny peas, raisins, olives and salt. Stir well. Add the potatoes and bring to a boil. Lower the heat, cover and cook for 35 minutes. Do not allow to dry out, add more sherry or water if needed. There should be plenty of sauce to serve over white rice.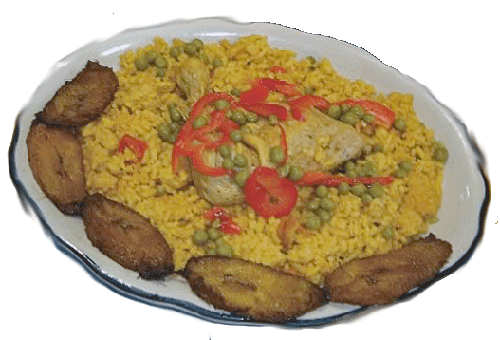 Chicken and Yellow Rice
Arroz con Pollo

Top


juan@juanperez.com
Last time this page was edited August 24, 2015
@copyright 2015 Perez Professional Services all rights reserved
This page was created by Perez Professional Services (561) 313-6041