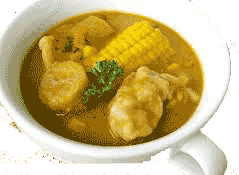 Servings: 4
Ingredients:
¼ pound ham, diced

1 teaspoon Accent

3 tablespoons oil

¼ teaspoon ground pepper

1 onion, chopped

2 cups ham or beef stock

1 large green pepper, chopped

1 cup diced potatoes

3 cloves garlic, pressed

2 cups frozen corn kernels or 4 ears of corn cut in 1 inch chunks

1 cup tomato sauce

2 chorizo sausages or smoked sausages cut in ½ inch thick rounds
Directions
Lightly sauté the diced ham with the chopped onion, the mashed garlic and the chopped green pepper and cook for about 5 minutes over medium heat until the onion becomes transparent. Do not brown the garlic.
Add the tomato sauce, sausage, salt, pepper, Accent, stock and potatoes.
When the potatoes start to soften (do not allow them to become mushy) add the corn and cook for 5 more minutes at medium heat, until the corn is cooked through.
Ham Stock
Cover the ham bone with the water, add the vegetables and simmer, covered, for 2 Hours.
(Bouillon, canned beef, broth or water may be substituted for the ham stock)

Top


juan@juanperez.com
Last time this page was edited August 26, 2015
@copyright 2015 Perez Professional Services all rights reserved
This page was created by Perez Professional Services (561) 313-6041