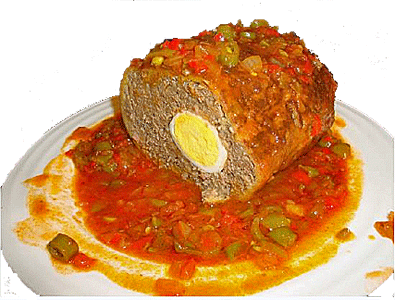 Servings: 8
Ingredients:
1 pound each ham, very lean beef, and pork, finely ground

1 teaspoon salt

½ teaspoon pepper

3 eggs

1 teaspoon onion powder

1 cup cracker meal

1 pinch of ground cumin
Coating
2 eggs, well beaten

½ cup cracker meal
Directions:
Thoroughly mix all the meats together. Beat the first three eggs. Add the eggs, the first cup of cracker meal and the seasonings to the meat mixture. Continue mixing until well blended. Knead with your fingers and form a compact ball. Divide into two log-shaped rolls about 2 or 3 inches in diameter. • Place the beaten eggs for the coating in one shallow bowl and the ½ cup cracker meal in another. Dip the rolls first in the egg then in the cracker meal to coat well. Wrap each roll separately in aluminum foil and twist the ends tightly to make a thorough seal. Place both rolls in a baking pan and pour water around them to reach halfway up their sides. Do not cover with water. Add 2 or 3 bay leaves and a few whole peppercorns to the water. • Place in a 350° oven for 1 hour. Remove the pan from the oven and while the rolls are still warm, unwrap them from the aluminum foil in order to discard any grease. Wrap the rolls in clean aluminum foil and refrigerate until ready to serve. This recipe can be refrigerated for 2 or 3 days. • Slice thinly to serve. It may be accompanied by a mustard sauce, small sweet pickles or the Onion Preserves that follows in this chapter.

Top


juan@juanperez.com
Last time this page was edited August 21, 2015
@copyright 2015 Perez Professional Services all rights reserved
This page was created by Perez Professional Services (561) 313-6041