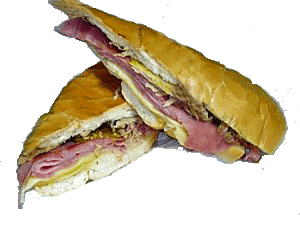 Servings: 8
Ingredients:
1 short loaf of Cuban bread

2 thin slices roast pork about 10 inches long

2 slices ham, boiled or baked

2 tablespoons mayonnaise

Melted butter

3 thin dill pickle slices

2 slices Swiss cheese
Directions
Heat oven to 300°.

Trim off the ends of the loaf and slice lengthwise.

Spread mayonnaise on both sides of the bread.

Layer the ham, pork and cheese and top with the pickle slices.

Place the sandwich on a cookie sheet and brush with the melted butter. Place in the oven, weighted, if possible, with a heavy cast iron skillet.

Heat until warm, but it is not necessary to melt the cheese.

Top


juan@juanperez.com
Last time this page was edited August 21, 2015
@copyright 2015 Perez Professional Services all rights reserved
This page was created by Perez Professional Services (561) 313-6041