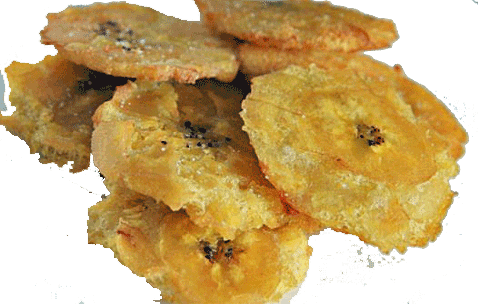 Servings: 6 to 8
Ingredients:
Directions:
Peel the plantains. Dry them if they have been soaking in water and cut in 1inch slices.
Have plenty of paper towels ready by the stove to drain the plantains and a bowl of cold salted water.
Heat about 3 inches of oil to about 375° in a heavy bottom saucepan or Dutch oven or a deep fryer.
Maintain the oil at medium heat.
Fry the plantain slices in batches.
Place the slices in the oil without crowding and fry on one side until barely golden.
Turn and fry on the other side for a few minutes.
Remove and drain on the paper towels.
Place a paper towel or a brown paper bag over the plantains and flatten them by pounding each one quickly with your fist.
Place in the cool water for a few minutes.
Remove from the water bath and pat dry with paper towels.
Fry the flattened plantains for the second time in the oil at approximately 375 or 385° for only a few minutes to make them crisp.

Top


juan@juanperez.com
Last time this page was edited August 24, 2015
@copyright 2015 Perez Professional Services all rights reserved
This page was created by Perez Professional Services (561) 313-6041