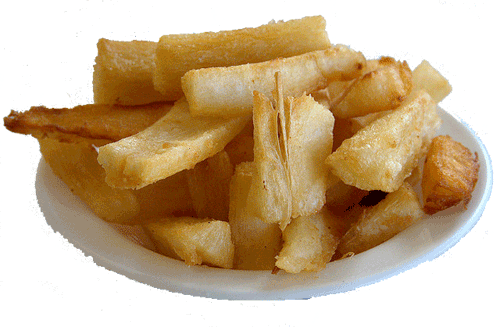 Servings: 6 to 8
Ingredients:
2 pounds fresh yuca (yuca is sold frozen in Hispanic markets and in some supermarkets) Vegetable oil
Directions:
Prepare the yuca several hours before frying. Pare the hard crust from the yuca leaving only the very white flesh. Cut in 2 or 3 inch chunks and boil in a large pot in salted water until soft but not falling apart. Drain and let cool. Remove the hard center string or core and cut in pieces the size of thick French fries. Spread out the pieces on paper towels to dry for several hours before frying. Pour about 1/2 inches of oil into a deep skillet or heavy saucepan and heat to medium temperature. Fry in batches if necessary. Fry the yuca pieces until just golden. Place on paper towels to dry.
Serve with Mojo sauce for dipping or as an alternative to French fries.

Top


juan@juanperez.com
Last time this page was edited August 24, 2015
@copyright 2015 Perez Professional Services all rights reserved
This page was created by Perez Professional Services (561) 313-6041