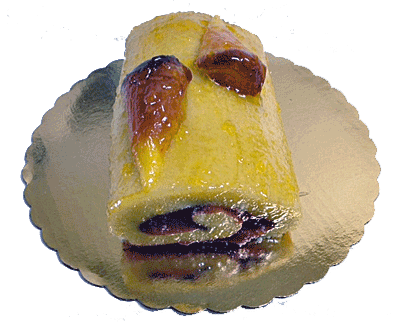 Servings: 8 to10
Ingredients:
1 cup flour
1 cup sugar
1 teaspoon baking powder
5 teaspoons water
¼ teaspoon salt
1 teaspoon vanilla
3 or 4 eggs
1 31-ounce can of guava cream
Directions
Preheat the oven to 375°.
Butter a 15½ inch by 10½ inch pan. Line the pan with buttered wax paper.
Sift flour, baking soda and salt together.
In a separate bowl, beat the eggs for 10 minutes. Sift in the sugar and mix in water and vanilla. Sift in the dry ingredients and incorporate until smooth.
Pour into the prepared pan and bake at 375° for 15 minutes. Remove from the oven and before the cake cools run a thin knife along the edge of the pan to loosen the cake. Prepare a damp cloth and turn the cake on to the cloth. With the help of the cloth, roll the cake up
from its long side. Wrap the rolled cake in the damp cloth and let cool.
When the cake has cooled, unroll and spread with the guava cream. Roll the cake up again and dust with confectioner's sugar or, in honor of the favorite combination of guava and cream cheese, decorate with cream cheese frosting.

Top


juan@juanperez.com
Last time this page was edited August 22, 2015
@copyright 2015 Perez Professional Services all rights reserved
This page was created by Perez Professional Services (561) 313-6041