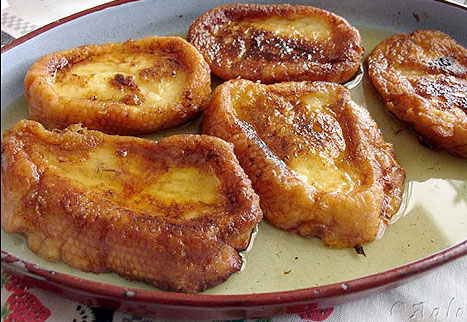 Servings: 10
Ingredients:
1 loaf of French bread (about 3 inches diameter), cut in 2 or 3 inch thick slices

1 tablespoon olive oil (not extra-virgin)

2 eggs, lightly beaten

1 cup evaporated milk

2 cups sugar

½ cup condensed milk

4½ cups water

1 cup half and half cream

1 2-inch piece cinnamon

2 cups milk

1 tablespoon Cognac

2 tablespoons vanilla

¼ pound sweet (unsalted) butter
Directions:
Place the slices of bread in a rectangular glass dish. Although they may seem crowded, they will fall into place after being soaked in milk. Mix the milks and pour over the bread. Allow the bread to soak in the milk for 2 hours. Remove the soaked bread carefully with a wide spatula. The bread will be very soft. Drain the bread on a wire rack over a pan. Beat the eggs lightly. Heat the butter with the oil in a large skillet to frying temperature. Dip the bread slices in the egg and quickly transfer to the skillet. Fry until golden. Regulate the temperature of the butter so that the bread will fry though without burning. Add more butter as necessary. Drain on paper towels while preparing the syrup. Stir the sugar into the 4½ cups water, add the stick of cinnamon and cook at low heat until the sugar has completely dissolved and the liquid becomes clear. Boil for a minute or two. Let cool before adding the optional Cognac. Remove the stickof cinnamon. place the fried bread in a deep glass serving dish. Pour the syrup over the bread. It may be served at room temperature after resting for 10 minutes or refrigerated and served later.

Top


juan@juanperez.com
Last time this page was edited August 22, 2015
@copyright 2015 Perez Professional Services all rights reserved
This page was created by Perez Professional Services (561) 313-6041