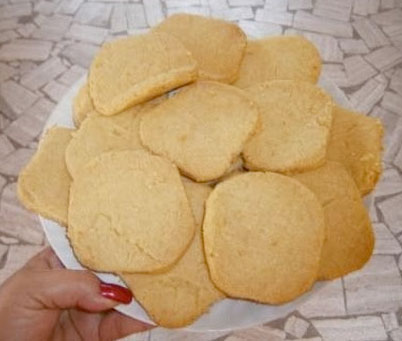 Servings: 20 or 25 cookies
Ingredients:
1 cup vegetable shortening

½ teaspoon salt

1 cup sugar

1 teaspoon vanilla

3 cups flour
Directions:
Grease a cookie sheet. Preheat the oven to 350° Mix all the ingredients together. Form balls about 1 inch or 1½ inches in diameter. Flatten the balls and place on the cookie sheet. Bake for 20 or 25 minutes until golden. Remove from the sheet with a spatula and let cool.

Top


juan@juanperez.com
Last time this page was edited August 23, 2015
@copyright 2015 Perez Professional Services all rights reserved
This page was created by Perez Professional Services (561) 313-6041